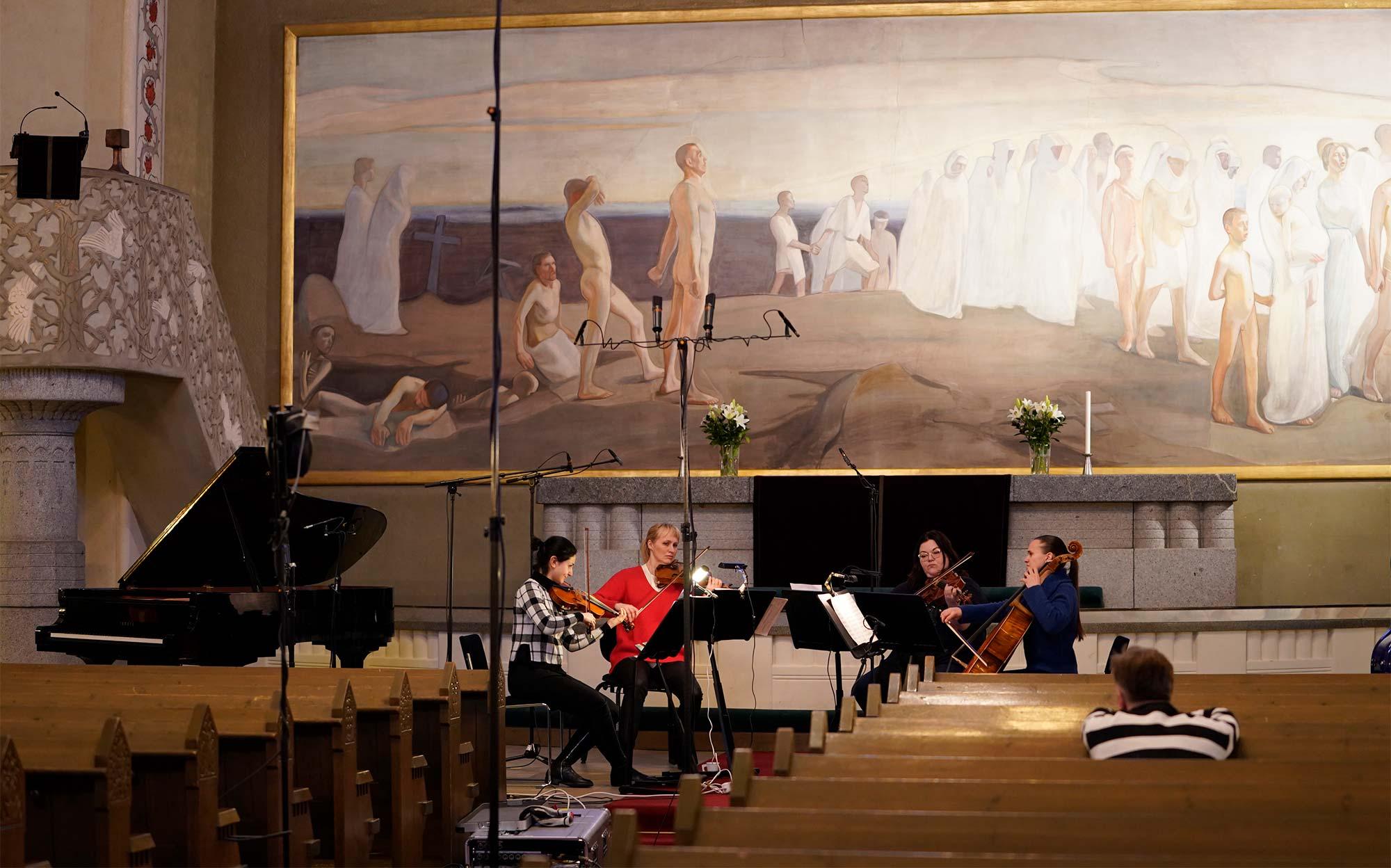 Tampere Philharmonic Orchestra
Tatevik Ayazyan – violin, Anna Angervo – violin, Heili Hannikainen – viola, Elina Sipilä – cello, Janne Pesonen – clarinet, Maija Juuti – cello, Ville Hautakangas – piano
Listen at Yle Areena (available until 30 April 2020).
Jan Lehtola reports that he had been planning to write a string quartet for quite some time when his grandmother died in January 2017. Lehtola wrote an organ piece titled In memoriam for her funeral, and this piece ended up providing the framework for the last movement of the String Quartet. The four-note bell motif that concludes the organ piece evolved into a material-generating motif for the entire Quartet. Lehtola performed the organ piece again at his grandfather's funeral only a few months later.
Lehtola describes his grandparents as highly conflicting personalities. Both lived to be nearly 100 years old, but after their early divorce they had nothing to do with each other for the last 70 years of their lives, even though they lived very close to each other in Tampere.
The sub-title of the Quartet, Sota ja Rauha, translates as 'War and Peace', yet it is not a reference to Leo Tolstoy's great novel but to Lehtola's grandmother, whose name was Rauha. On one of the last occasions that Lehtola met her, she said that she had talked to a priest she knew about the many conflicts in her life – hence the word 'War' in the sub-title. She had of course experienced actual war in her lifetime, the Winter War and Continuation War [Finland's two separate periods of hostilities during the Second World War] having been major chapters in the book of her life.
As Lehtola puts it: "The principal inspiration for the quartet was an individual, but it evolves into a broad musical fresco fostering social dialogue."
French composer, organist and ornithologist Olivier Messiaen wrote what may be the single best-known chamber music work of the 20th century in his Quatuor pour la fin du temps [Quartet for the End of Time]. Its unique idiom, with curious rhythms, odd harmonies, unusual instrumentation, extreme tempo markings, and above all its amazing genesis have fascinated musicians and audiences from generation to generation.
The work was written during the Second World War. In 1940, Messiaen was captured by the Germans and imprisoned in the prisoner-of-war camp Stalag VIII-A. By coincidence, there were three other top-notch professional musicians in the camp: a violinist, a cellist and a clarinettist. In these unusual circumstances, Messiaen began to sketch out a chamber music work for himself and these three fellow prisoners to perform.
This ambitious project, with all its twists and turns, has in itself provided fuel for a number of scholarly studies and books. But the musical work at the core of it all was completed, rehearsed and eventually performed in freezing circumstances in its now legendary premiere on 15 January 1941.
Cast in eight movements, the Quartet follows a passage of text from the Revelation of St John, specifically chapter 10 verses 1 to 7. Messiaen was a devout Catholic, and the work was informed by a powerful religious vision. The music itself, however, is a far cry from what we understand as sacred music. It incorporates complicated modes of both pitches and rhythms, extremely fast and more often extremely slow tempos, curious tonal colours and variations on instrumentation. Being an enthusiastic ornithologist, Messiaen also mixed in birdsong imitations: in the first movement, for instance, the clarinet imitates a blackbird singing at dawn, while the violin imitates a nightingale.
In the present extraordinary times, the Quartet for the End of Time reminds us that art is a universal force that fosters hope and communality however bleak the world around us may seem.
PHOTO: Ville Hautakangas
text: Janne Pesonen
Jan Lehtola (*1972): String Quartet no. 2 (2017) (first performance)
       I Moderato
       II Allegro con brio
       III Adagio
Olivier Messiaen (1908–1992): Quatuor pour la fin du temps (Quartet for the End of Time)
       I Liturgie de cristal
       II Vocalise, pour l'Ange qui annonce la fin du temps
       III Abime de oiseaux
       IV Intermède
       V Louange à l'Éternité de Jésus
       VI Danse de la fureur, pour les sept trompettes
       VII Fouillis d'arcs-en-ciel, pour l'Ange qui annonce         la fin du Temps
       VIII Louange à l'Immortalité de Jésus