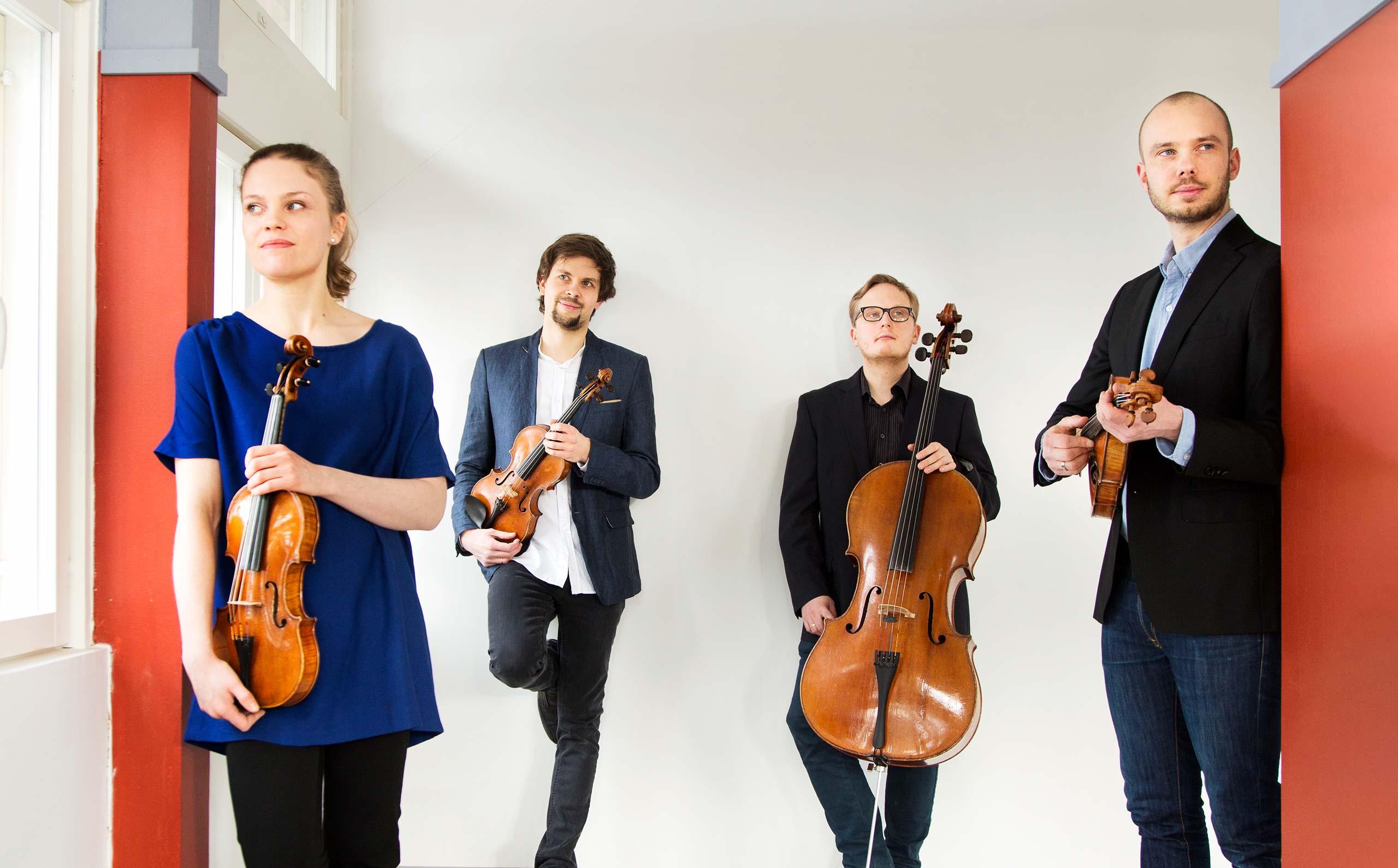 Kamus feat. Tommi Hyytinen
Tommi Hyytinen – french horn, Terhi Paldanius – violin,  Jukka Untamala – violin, Jussi Tuhkanen – viola, Petja Kainulainen – cello
The Kamus Quartet presents an intriguing collection of Finnish contemporary composers each with a unique voice of their own. Kamus are always pleased to be giving world premieres, but subsequent performances are no less important, and it is gratifying that this programme contains both.
Perttu Haapanen was commissioned to write ja yltyvään vehreyteen [and into the green abundance] by a private individual as a birthday present for their spouse, and Kamus premiered the work at the birthday party in 2018. The work has had several performances since then, thus being a good example of how important both commissioners and subsequent performances are for the creating of new music. Music is not alive unless it is performed!
Ari Vakkilainen is featured at the Tampere Biennale for the first time ever, with the world premiere of his String Quartet no. 5.
Johanna Eränkö was inspired by the natural environment of Iceland: "Nature in Iceland is rugged and beautiful. For someone used to forests, it takes a while to comprehend just how rich and diverse the seemingly bare landscape of mountains and valleys can be. The scale is so much smaller in everything; there are colourful and curious things growing right along the ground. The effects of natural erosion – wind, water and ice – are also plainly visible in Iceland, although we humans have contributed to erosion too."
Aki Yli-Salomäki was commissioned by the Kamus Quartet to write his quartet Sellaisenaan [As is], which was premiered in 2018. The composer says: "The movements of the work are roughly the length of a pop song. I was interested in transferring the well-established format of 3 to 4 minutes from pop music to classical music. Other influences migrated too, especially because I've been increasingly working as a songwriter in the pop genre in recent years. Each movement can be performed separately, and they can be performed in any order and in any combination of 2 to 6 pieces."
Perttu Haapanen (*1972): ja yltyvään vehreyteen (2018)
Ari Vakkilainen (*1959): Jousikvartetto nro 5 (2010) (world premiere)
Johanna Eränkö (*1981): Fragments from the Shore (world premiere) (2020)
       1. Erosion
       2. Lamentato
       3. Fragments
Aki Yli-Salomäki (*1972): extracts from the String Quartet Sellaisenaan (2017)