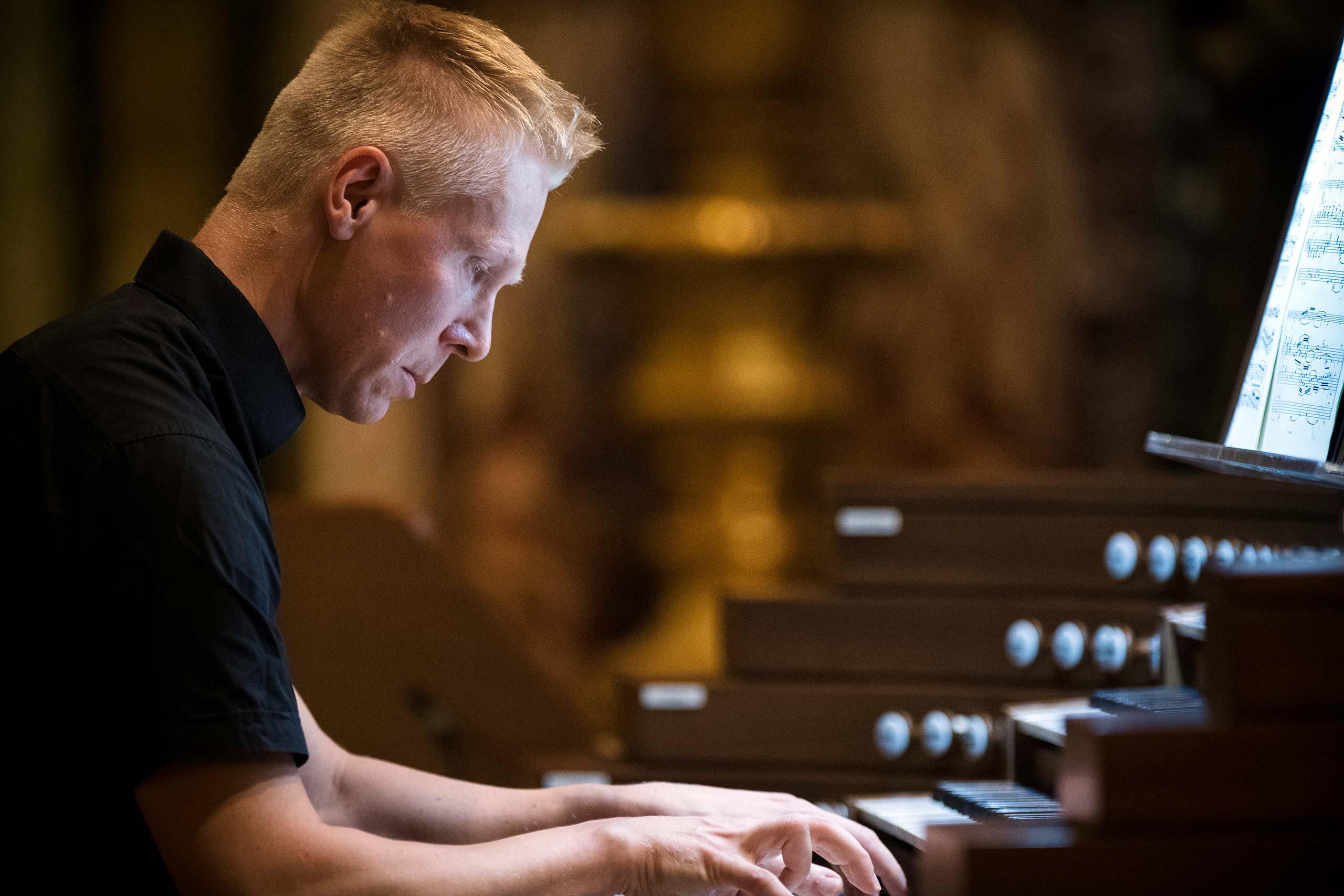 Listen at Yle Areena (available until 30 April 2020).
Hungarian-born Adam Vilagi wrote Citadella to a commission from organist Jan Lehtola for a Hungarian Cultural Week event. The title alludes to the city fortress on Gellért Hill in Budapest, where the city can be seen in all its glory and ruggedness. The work was premiered by Jan Lehtola at Kuopio Cathedral on 2 September 2018.
Austrian-born Herman Rechberger was commissioned by the Parainen Organ Festival to write Clausulas in 1988. The title is a Spanish term referring to rules of musical ornamentation and variation. The underlying material for the work comes from the organ pieces Exclamans Jesu and Clausulas de segundo tono by Tomas Ludovico da Vittoria and Tomas de Santa Maria, respectively.
Leonid Bashmakov was born in Terijoki in 1927 and died in Tampere in 2016. His output includes three organ works: a work for organ and percussion, an Organ Concerto, and the cycle Neljä preludia [Four preludes], which is on the programme here. It is a set of four miniatures exploring the sonorities of the instrument.
Adina Dumistrescu was born in Romania in 1964. Lehtola commissioned her to write I smiled to the bird on Jupiter with the financial support of Teosto in December 2019 to be performed at the Tampere Biennale. The work stemmed from this motto:
I thought it died during its long autumn flight or somewhere in a damaged atmosphere. But one day I got a long-distance call and I was happy to recognize its voice. "– I was rescued by a moving creature from a world with other rules concerning the life-death thing." "– Good point!" I answered; "– make it bigger, your new infinitude, and send us the map!"
This motto reflects the composer's humble wish that nature and birds would not be completely destroyed on our planet but that some greater power in the universe would save them and save us from ourselves.
Oliver Kohlenberg, born in Germany in 1957, has featured the organ in his chamber music and written two solo works for the instrument. The more recent of the two, the symphonic fantasy Das Wort, was written to a commission from Lehtola with financial support from Teosto. It was premiered at the concluding concert of the Organo Novo festival in 2010 and is the longest organ work ever written in Finland, with a duration of 90 minutes. The present programme features its last movement.
Adam Vilagi(*1977): Citadella (2018)
Herman Rechberger (*1947): Clausulas (1989)
Leonid Bashmakov (1927–2016): Neljä preludia (1975)
Adina Dumitrescu (*1964): I smiled to the bird on Jupiter (world premiere)
Oliver Kohlenberg (*1957): Das Wort; Symphonische Fantasie (2007–2009)
       III Finale: Epilogo e silencio eterno