Eero Saunamäki – recorder
My first encounter with Finnish music for recorder and tape happened 15 years ago. I was excited by the potential of using a tape background, and it was this that motivated me to commission a piece from Timo Forsström in 2009. At about the same time, my Dutch colleague Erik Bosgraaf was working on a commissioned piece with Finnish composers Tomi Räisänen and Sami Klemola, and about five years ago I hit on the obvious idea of performing all Finnish works for recorder and tape in one programme.
The problem here was that there were not enough such pieces: the programme would be brief, and it would be difficult to devise a dramatic arc for it. I began to think about who else I could commission, but then my time and energy came to be tied up with the Recorder Concerto of Jukka Tiensuu, which I premiered and subsequently performed with several Finnish symphony orchestras.
The idea of a solo recital would not go away, however. In the first spring of lockdown, I listened to the 'Panurama' podcast of Panu Savolainen with Tapani Rinne as his guest. I was greatly inspired by what Tapani had to say and realised that this would be the composer for my new commission! Tapani was hooked, I began to apply for grants, and eventually Teosto awarded me the financial support I needed. A new work was born.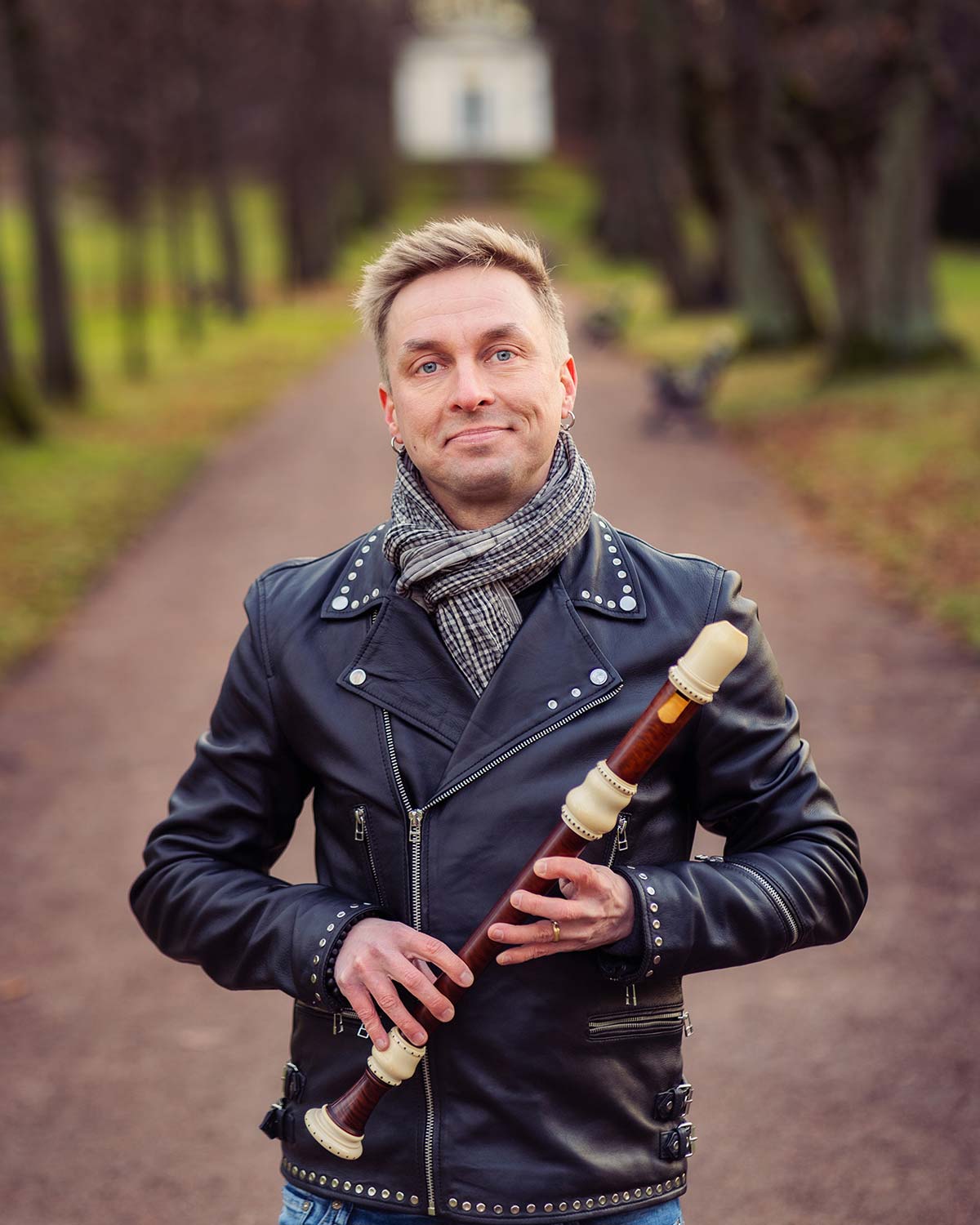 This programme features a broad-based selection of Finnish electroacoustic music from the past 20 years or so. The composers represent a variety of genres and generations, and the end result is a reflection of its performer.
I premiered Timo Forsström's In Space Regiment at the Suomenlinna planetarium in 2009. His catchy adaptation of an old marching tune is compelling, and the wide range of sonority possessed by the modern Helder tenor recorder is prominently featured, particularly in the improvised passages.
The outward appearance of Helle Kristensen, who commissioned La fille joue aux oiseaux de nuit (1998) by Jarmo Sermilä, was associated by the composer with the well-known prelude by Debussy about a girl with flaxen hair. Accordingly, the opening motif of that prelude is easily identifiable in Sermilä's material. Scored for bass and soprano recorders, the piece is built up of brief motifs, allowing the performer to engage in dialogue with imaginary birds.
The title of Lentamente (2014) means 'slowly', and this work by Sami Klemola is derived from the lyrical qualities of noise in a slow-moving texture. The music progresses at the pace of human breathing until the electronic part leads into a static, breathless hiss. The coda restores the breathing rhythm, albeit somewhat erratically.
Premiered at the 'Flag Tower' in Hamina in 2018, Pikkuväki by Tomi Räisänen evokes the mood of a primeval forest with an effect reminiscent of the roar of a mythical beast. The title translates as 'Little people', but the Finnish word associates not with short humans but with the ancient mythological concept of beings inhabiting natural sites and elements and the environment in general – gnomes, elves, what have you.
Installation 2 (2022) by Tapani Rinne is a solo work for Paetzold contrabass recorder and electronics, featuring two looper pedals and a reverb. Rooted in the minimalist tradition, it serves up eight minutes of impressionist reverberations at ambient frequencies.
Dive (2015) by Räisänen was inspired by a seabird circling in the sky, gazing down on a school of fish and then diving down to expertly catch one of them. After a few successful dives, the bird unfortunately hits an oil slick on the sea, permanently terminating its flight.
PHOTOS: Ville Paul Paasimaa & Eero Saunamäki
TEXT: Eero Saunamäki
Timo Forsström (*1961): In space regiment (2009)
Jarmo Sermilä (*1939): La fille joue aux oiseaux de nuit (1998)
Sami Klemola (*1973): Lentamente (2014)
Tomi Räisänen (*1976): Pikkuväki (2018)
Tapani Rinne (*1962): Installation 2 (2022) (world premiere)
Tomi Räisänen (*1976): Dive (2015)